Network Operations Center (NOC)
Our NOC / Level 1 / Level 2 Services
Digital Edge
Team Comparison
Realtime Management Oversight
Shift Manager 24/7
Dedicated Account/Project Manager
YES
Dedicated Technical Engineer
YES
Direct contacts
YES
Bench of Junior/mid-level engineers
YES
Security
Access Environment
Firewalled, jump box over VPN, client defined ports and protocols
Accessing Equipment
Jump box protected by endpoint protection
Access protocols
Defined by client
Access security
Client policy defined. Client AD, RADIUS etc.
Security compliance
Onboarding and termination integration
Tier 1/Level 1 Support
Live Eyes on Alert Dashboard
YES, 24/7, at least 2 people
Alert Review
YES, automatic alert classification by the system
Alert Handling
Within 10 minutes. human alert verification
Ability to automatically assign SOP to an alert
YES, system driven
Ability to define custom escalation per alert
YES, system driven, connection to knowlege base
Alert escalation
To internal Level 2, internal SME, third party, client
Tier 2/Level 2 support
Live remote hands support
In Digital Edge datacenters YES
Issues passing between L1 to L2
YES
Human logs and other conditions
YES - will be defined as schedules SOPs, each even is registered as a ticket
Monitoring
Identify what to monitor
YES - working with clients to tune monitoring processes
Define and create monitoring points
YES
Best Practices
YES for performance, uptime, security
User simulation and monitoring
YES - Unique monitoring methodology for user experience and performance
Shared NOC portal
YES
Integration
Client monitoring system
YES - bonding of clients monitoring system with Digital Edge's
Client ticketing system
YES - bonding of clients ticketing system with Digital Edge's
Dashboards
Digital Edge dashboarding integrated
Management
Team integrations
YES. Digital Edge works as an extension to clients IT
Scheduled meetings
YES
Scheduled performance reviews
YES
Reporting
YES - Automated through Digital Edge portal
Compliance
Reporting for ISO compliance
YES
Reporting for NIST compliance
YES
Reporting for HIPAA compliance
YES
Reporting for PCI compliance
YES
Reporting for SOC compliance
YES
Logging for compliance
YES - Internally with Elastic / Logstash / Kebana
Have you ever been woken up in the middle of the night by your monitoring system? Did you have too many tools, and too many false positive/nuisance alarms? Are you too busy with putting out fires, instead of focusing on growing your business? Are you tasked with increasing uptime and support, without increasing your headcount?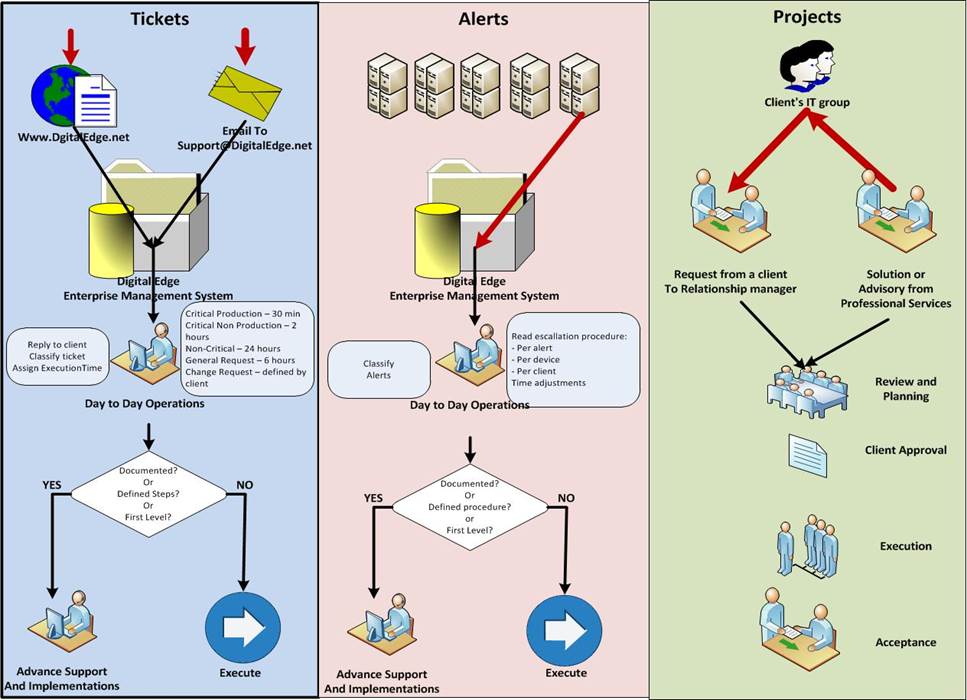 Whether you're a small business with a handful of critical devices, or have an IT footprint as complex as your global enterprise, someone has to monitor the IT systems that power your business. Digital Edge's NOC support will meet the most demanding needs of your technology environment and operational workflow. We will be there before you know that something even happened, 24 hours a day, 7 days a week.
Philosophy
Digital Edge specializes in monitoring and support automation. We deploy our own solution or integrate with clients' third-party monitoring tools to deliver the best in class NOC services. Once the platform is in place, our highly experienced, US-based network engineers monitor your networks, servers, websites, applications and other core IT infrastructure 24/7 to help you deliver 99.999% uptime for your business. When an alert occurs, we take immediate action. A trouble-ticket is generated automatically and our live engineers analyze the situation filtering out false positive alerts, comparing with escalation procedures which could be an email, SMS messages or a phone calls made to your staff, carriers, vendors or third parties. We also can perform Standard Operating Procedures (SOP) defined by you to remediate a standard situation – things like opening carrier tickets, killing & restarting applications, executing scripts, resetting interfaces, rebooting hosts or escalating to our Second Level support.
Let our free "Proof of Concept" Program show you how valuable Digital Edge can be in managing your entire IT platform, so you can focus on your projects, while we focus on your technology.
Stability
Our mission is to guarantee a stable and secure network operations to all our clients – 24/7. Digital Edge's NOC staff maintains a vigilant eye every minute of every hour, on critical and noncritical technology, so that your operation runs smoothly and uninterrupted, ensuring 'round-the-clock' reliable performance. As your business grows, your IT grows – in size and complexity. No matter the size of your IT infrastructure, networks or applications, we have you covered.
Digital Edge provides a myriad of services to ensure all operational support needs are met:
24/7/365 LIVE support.
Event Monitoring and Management
SOP (Standard Operating Procedure) based troubleshooting and problem resolution
Performance Management
On-Demand NOC Support
Integration Services
Advanced Runbook Services
Provisioning Support
Efficiency
It is not easy to organize real 24/7 coverage for your operation. Many companies carry duty pagers. That adds stress level to their staff. Shifts have to be organized and managed. Any sick day or a vacation schedule can create a situation where no one is attending to your infrastructure. "Sorry I slept and didn't hear the call" – is not an excuse anymore. No need to operate a larger than necessary IT team with the added worries of insurance coverage, 401Ks, taxes, workers compensations, personal issues etc. With Digital Edge you are covered with a live support – 24/7 for a fraction of the price.
Digital Edge's clients have access to an entire team of Subject Matter Experts with varied experiences, skillsets and exposure to multiple IT related issues. Because Digital Edge works with so many different technologies, we can add a tremendous amount of value to your IT department by supporting your systems. We also know how important it is to manage capital and operating expenses wisely. At Digital Edge, we will stay awake so you don't have to. Our team monitors your network performance 24/7, and we won't wake you up with false alarms. We will provide the necessary hardware, software, customization, automation, maintenance and monitoring under an affordable Software as a Service (SaaS) model. When a problem appears, we'll take action – from alerting you to optional remediation.
Security
Digital Edge is firmly committed to rigorous security standards, and we utilize the latest technologies, protocols and operational best practices to close vulnerabilities, deal with threats and protect your business. We provide support and auditing as a third party vendors to many of the most secured US enterprises. It is easy to work with us, as we are familiar with industries regulations, standards and frameworks. Our trained and knowledgeable staff, is armed with the tools set with the highest security standards and policies.
Compliance
Digital Edge's 24×7 NOC performs IT tasks in alignment with most of industry requirements and compliances. We are audited by our clients on regular bases, providing reports, controls and policies to their internal and external auditors. Our clients find it extremely convenient to have a partner who becomes a part of their own compliance process. We are ready to integrate with any industry requirements that exist on the market today.